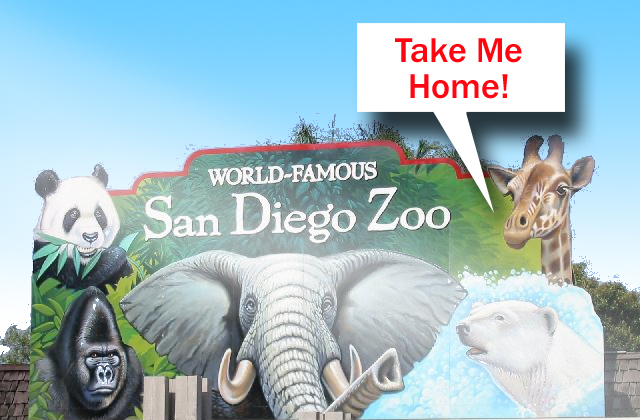 I love the landscaping and plants at the San Diego Zoo and Safari Parks and have often wanted to take them home with me. I don't think I'm alone. Why not make it easier for visitors to buy bits of the zoo and increase revenue to San Diego Zoo Global as a nice side benefit?
How to Turn My Smartphone into Cheetah Chow
All it would take is placing small unobtrusive signs with QR codes near or on the landscaping feature or plant. Scanning the code with a smartphone would connect visitors to an informational web page with a buying link.
Another option is to take advantage of the improvements in image recognition technology. With this method, new signs might not be necessary at all. Put the capability in a "What Is It?" feature added to the existing Zoo app. Some of these image search engines are free, like Moodstocks.com. The visitor takes a photo of the item within the app, the software recognizes it and then retrieves an informational web page where visitors can buy it.
Either of these methods would add to the visitor experience, educate them, and create additional income streams for the parks.
Let Online Vendors Do the Work
SDZ Global might not even have to write the content for the web pages. Online seed, plant and outdoor materials companies would probably be willing to provide useful content as part of a working partnership. Most of these companies already have extensive informational websites that give all the details necessary for customers to make informed purchases.
Give It To Us Now or We'll Forget It
One-click links on our phones will make buying bits of the zoo easy impulse buys. And that's absolutely necessary. We're all so busy that we seldom follow up on items that catch our eye while on vacation.
Visitors could pay online and pick up their purchases on the way out at one of the zoo stores. Or the item could be mailed to them. In the case of larger landscape features, a vender could contact them directly for an appointment to discuss installation. Income from outside suppliers can be easily arranged through standard online affiliate arrangements, referrals and advertising fees.
We All Love to Brag, Just a Bit
Social proof and good stories sell. Saying, "Isn't it great? I found it in San Diego at the Safari Park…" is a much better story than "I bought it at Walmart." Landscaping features and plants will also act as continuing visual memory triggers of their zoo visit. That can boost zoo membership renewal rates. So capitalize on this by including membership links and reminders within periodic email updates on how to care for their purchase.
What Do I Want to Buy?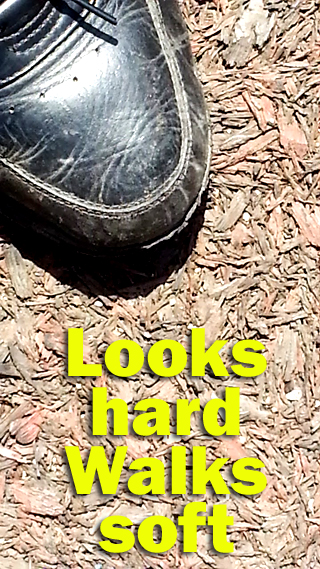 First, I want that rubbery mock wood chips surface that's found in several places throughout the SD Zoo. I don't think that I'm the only one who would love to have it in my backyard. It's easy on the feet. It looks natural. It drains well. And it must be extremely durable to hold up to San Diego's hot sun and all the foot traffic.
I've also wondered where to purchase those large printed landscape backdrops that are sometimes used to hide unattractive fencing or machinery. Many homeowners have eyesores that they cannot remove from their yards. Give them the information and an easy way to purchase with their phones and they will buy. They'll be grateful that they don't have to look at the neighbor's overflowing trash cans anymore.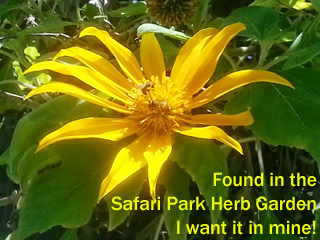 Finally, I'd want to buy plants. Gardening is one of the most popular hobbies and people will spend considerable sums if the process is easy and convenient. I've lost track of the number of flowers and striking plants that I've taken pictures of and wanted to add to my home garden. Unfortunately I didn't have a clue about what they were called, how to care for them or where I could buy some. If there had been a small sign with a QR code I might have a few in my garden right now. Start with the Herb Garden at the Safari Park as a test, maybe this plant here with the wonderful yellow flowers?
We'd All Love to Own a Bit of the SD Zoo and Safari Park
There are so many ideas from the San Diego Zoo and Safari Park that homeowners can take home and use in their own backyards. Obviously a lot of money has been spent on outstanding landscape design and to purchase, install and maintain the surfacing materials, sculptures, seating and plants. Why not make those features another income source for funding conservation and wildlife preservation?
Updated on August 13, 2013: QR Code spotted on Saturday in a video display alongside the tours window. Good placement!

Created by: Nancy Ulrich.