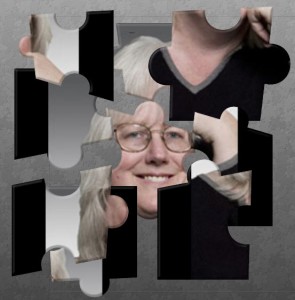 Hi, I'm Nancy Ulrich and I'd like to thank you for stopping by.
Since you are reading an 'About Me' page I'll not disappoint you. But I'm not going to drone on endlessly either. In short, I'm a Creative Generalist who's always looking for the 'bright spots'. What's beautiful. What's working, especially when it shouldn't be (the lily blossoms in life's muddy puddles). And how to make the good stuff that I love better.
I've always loved animals, art and the wilderness
As I child I befriended all the dogs and cats in the neighborhood and rode my bike for an hour so that I could sketch Arabian horses at the fairgrounds in St. Paul, Minnesota. I consider the San Diego Zoo and Safari Parks to be beautiful international treasures that I am privileged to be able to enjoy every day if I so choose. My favorite vacation was spent clutching binoculars in the cold while watching Yellowstone's wolf packs a mile across the valley.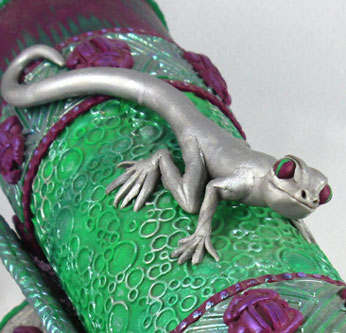 My artistic endeavors are primarily focused on polymer clay, mixed media and creating websites. The list at the bottom of this page only mentions those that are active today, but there's been at least 3 more real estate related sites. Bob and I have been building internet properties since 1998 (check the Wayback Machine for BobUlrich.com!)
I enjoy thoroughly researching ideas and their implications
The internet is my playground, but there's no substitute for the questions that are sparked by good old fashioned face to face encounters.
Bob and I sold residential real estate for almost 25 years. We've retired from that arena now. But we did enjoy the friends we made there. One thing that people liked about us is that we were careful with the facts. People don't normally associate real estate agents with in-depth research. But in the decades that my husband and I sold residential properties, every transaction has succeeded because we didn't stint on information gathering. It's critical to proper pricing and much more.
In one memorable case, careful information gathering conducted online and through phone interviews uncovered the fact that the other party to the transaction had a relative who was impersonating a lawyer to intimidate our client. Finding this hidden fact saved our client legal representation fees and settlement costs. Instead of owing an estimated $10,000 or more, he pocketed an unexpected $7,000 windfall.
I get a kick out of creatively blending ideas
I enjoy juxtaposing the old and the new to come up with a fresh take on a tired theme – like in this mattress promotional video that I created. It's had thousands of views and has been very effective for us in a small, targeted niche.
Sometimes problems are just a matter of perspective. They often contain the seeds of new growth. Dissecting them and creatively looking at existing resources is fun, and often very productive. For instance, I knew that if my new laptop overheated, it was more likely to break down. Looking at what was available at office supply stores convinced me I could do better. I designed my own laptop stand by sliding four simple metal bookends into a wire cookie cooling rack. Its kept my computer cool for more than 5 years now. I figure that I've saved $50 for the stand plus the cost of a new laptop, $1500.
Planning and laying out step by step processes to achieve goals is very satisfying
I co-chaired for 7 years a Thanksgiving Feast Lunch for neighborhood homeless and poor residents in the parish of Our Lady of Guadalupe in La Habra, CA. My husband and I coordinated with parish staff, priests and 20+ volunteers to reserve kitchen and dining hall facilities, post bulletin and website announcements, collect donations of food and funds from local merchants and parishioners, cook and clean up.
By the last year of our leadership we were cooking 25 turkeys, accepting 10 more from parish volunteers the night before and feeding up to 500 guests who were also gifted with a bag of groceries. The operation ran so smoothly that all volunteers were able to eat Thanksgiving dinner with their families at home by 6pm.
I'm just a bit of an organization junkie
I ended up redesigning my entire kitchen because the silverware drawer couldn't hold plates too. Ok, in my defense there were a lot more design flaws in that space than just that small drawer. The oven was misplaced and there was also a wall that blocked most of the natural light. Through careful observation of our cooking habits, regularly consulting with the client (my husband), resourceful shopping and perseverance we created the kitchen of our dreams for under $20,000, removed that wall and saved $40,000 off contractors' initial estimates.
Above all I value being kind and supportive
Communicating clearly and with compassion is an ideal that I strive for…even if I don't always succeed. Careful listening and an enjoyment of the process of establishing rapport is critical when feelings threaten to derail complex processes, particularly with home sales involving divorcing couples. I always try to remember that we're all in this beautiful world together. And I want to do my part to make it an even better place.


Phone: 619-867-1321
Email: ulrich.nancy@gmail.com
Active Websites:
PolymerClayer.com
Memory-Foam-Maniac.com
Facebook: Me and PolymerClayer
Pinterest: Me and PolymerClayer
Web hosting resources
Email Newsletter/Autoresponder Services
Shopping Cart Services